Welcome to KR Cookshop
We are a family run business based in Framlingham, Suffolk. The Kitchen Range & Cookshop has been operating since 1998 and is staffed by a friendly team with a genuine interest and knowledge of cooking and cookware.
Aga Cookshop
The new Cooks Garden textiles have arrived
Our Cookshop Blog
Packed with recipes, tips and interesting stuff!
ESSE Cookers and Stoves
See the fantastic range of cast iron cookers
OUR TOP Products
Toggle different views of our wide selection of fantastic products
No cook should be without a pudding mould, they are ideal for all kinds of desserts, including crème caramel and sticky toffee pudding.  Being silver anodised, they have an easy release, easy clean, smooth surface.  Sold as a set of three.
From the Emma Bridgewater collection, this lovely tin tray in sunflowers design provides the perfect solution for taking tea and cakes from room to room…or indeed into the garden, or even for breakfast in bed…or supper time cheese and biscuits. A great kitchen accessory.
With a large surface area to fit plenty of cups and plates.
Really great little acrylic container for storing cut onion in the fridge
Simply place the onion face down to protect and keep it fresh for longer
Dimensions: 12cm diameter x 8.50cm high
Material: BPA Free Resistant Plastic
Dishwasher Safe
Really great little acrylic container for storing cut lemons or limes in the fridge. Choose from green or yellow.
Simply place face down to protect and keep it fresh for longer
Dimensions: 8.5cm diameter x 8.50cm high
Material: BPA Free Resistant Plastic
Dishwasher Safe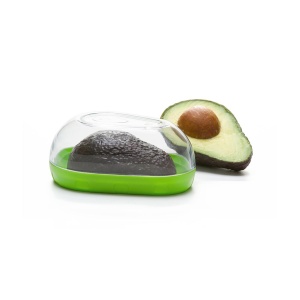 Really great little acrylic container for storing avocado in the fridge
Simply place the avocado face down to protect and keep it fresh for longer
Dimensions: 13cm x 9cm x 5.50cm
Material: BPA Free Resistant Plastic
Dishwasher Safe
From Our Blog
Catch up on all our latest news and promotions here